Dale Kaczmarek, GRS President
---
[ About the GRS | GRS History | GRS Merchandise | Bylaws | Chain of Command | Lectures | Media | [HOME ]
Autobiography
Dale David Kaczmarek
| | |
| --- | --- |
| Born: | Chicago, Illinois - December 19, 1952 7:59 AM |
| Business Address: | Ghost Research Society, PO Box 205, Oak Lawn, IL 60454-0205 |
| Telephone: | (708)425-5163 FAX: (708)425-3969 |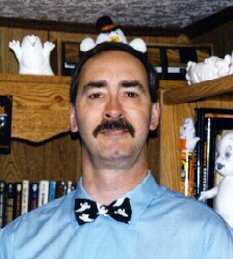 Attributes: President of the Ghost Research Society, Editor of The Journal, Author of "Windy City Ghosts" and "Windy City Ghosts 2", "A Field Guide to Spirit Photography", "Illuminating the Darkness: The Mystery of Spooklights", "Field Guide to Ghost Hunting Techniques", "Field Guide to Haunted Highways and Bridges," Bibliography of Ghost Movies, Directory of Ghostly Websites, Glossary of Occult Terms, Greater Chicagoland and Northwest Indiana Psychic Directory, International Directory of Psychic Sciences, National Catalog of Occult Bookstores, National Register of Haunted Locations, Occult Publications Directory.
Memberships: American Association Electronic Voice Phenomena (AA- EVP), International Fortean Organization (INFO), Honorary Life Member of The Ghost Club, Society for the Investigation of the Unexplained, Ghost Safari and Oak Lawn Chamber of Commerce.
Publications (appeared in): Albany (GA) Herald, Arkansas Gazette, Arizona Republic, Atlantic Constitution, Bakersfield Californian, Baltimore Jewish Times, Beacon Magazine, Boston Globe, Charleston Gazette, Chicago Sun- Times, Chicago Tribune, Cicero-Berwyn Life, Cincinnati Enquirer, Daily Herald, Daily Southtown, Dairy Food Magazine, Dallas Morning News, Daytona Beach News Journal, Detroit News, The Dispatch, The Doings Newspapers, Drury Mirror, Electric Company Magazine, Expo Magazine, Fate Magazine, Friends Magazine, The Geneva Republican, Glen Ellyn News, Hammond Times, Herald Newspaper (Sharon, PA), Holland (MI.) Sentinel, Home and Away Magazine, Illinois Entertainer, Independent Messenger, Indianapolis Star, Insider Magazine, Invisible Ink Catalog, Japanese External Trade Organization Newsletter, Joplin Globe, Kane County Chronicle, Kankakee Journal, Kansas City Star, LaPorte Herald Argus, Lerner Times, Long Beach Press Telegram, Los Angeles Times, National Enquirer, National Examiner, New York Times, The News Herald (Panama City, Florida), The News Herald (Joliet, Illinois), The News Rocket, News Sentinel, News Tribune and Herald, Oak Lawn Reporter, Occurrence (Oakton Community College), Omni, Pioneer Press, The Polish Museum of America Newsletter, Pontiac Progressor, Premiere, Psychic News, Pursuit, Ralph Magazine, Redbook, The Register Star, Richmond Magazine, Ridgewood News, Rochester-Clarion, The Rock Island Argus, Saginaw News, Shopping Centers Today, Southtown Economist, Spartanburg Herald-Journal, Sue Darroch & Matthew Didier's Paranormal Blog, The Star, State Journal Register, Sun, Teen Speaking, Tennessee Illustrated Magazine, Time Out Chicago, Today (Singapore), Today's Chicago Woman, Tulsa World News, University of Evanston Newspaper, UR Chicago, USA Today, Village View Newspaper, Wall Street Journal, Washington Post, Washington Times, The Weekly (Seattle, WA), Wilmette Life and Woman and Home Magazine.
Books (appeared in): The Common Sense Approach To Ghosts by Robert L. Gruzdis, Dead Zones by Sharon Jarvis, Earth Lights Revelation by Paul Devereux, The Encyclopedia of Ghosts and Spirits by Rosemary Ellen Guiley, Real Ghosts Don't Wear Sheets by Don Farrant, More Haunted Houses by Joan Bingham and Dolores Riccio, True Tales of the Unknown: The Uninvited by Sharon Jarvis, Parapsychology New Age and The Occult by Cheryl Klein Lacoff, National Directory of Haunted Places by William Hauck, Natural or Supernatural by Martin Caidin, Mysteries Of Strange Appearances From Beyond by Phyllis Raybin Emert, The 25 Scariest Places In The World by Phyllis Raybin Emert, Atlas of the Mysterious in North America by Rosemary Ellen Guiley, Sightings by Susan Michaels, Ghost Stories of Illinois by Jo-Anne Christensen, The International Directory of Haunted Places by Dennis William Hauck, The Complete Idiot's Guide to Ghosts and Hauntings by Tom Ogden, Relax, It's Only a Ghost by Echo Bodine, A Field Guide to Chicago Hauntings by Jim Graczyk, Ghostly Graveyards and Spooky Spots by Cameron Banks, Field Guide to the Land of Lincoln by Jim Graczyk, Field Guide to Mysterious Waters by Jim Graczyk, Ghost Hunting Handbook by Marc Tyler Nobleman, Haunted Highway: The Spirits of Route 66 by Ellen Robson & Dianne Halicki, Graveyards of Chicago by Matt Hucke, Small Town Ghosts by Barb Huyser, Haunted Chicago by Troy Taylor, Haunted Illinois by Troy Taylor, Paranormal Metro-Chicago by Carl Chutro, Weird Illinois by Troy Taylor, Ghosthunting Illinois by John Kachuba, Field Guide to Haunted Graveyards by Troy Taylor, Beyond The Grave by Troy Taylor, Ghost Tech by Vince Wilson, The Everything Ghost Book by Jason Rich, Chicago Hauntings For Teens by Jim Graczyk, Haunted Cemeteries by Edrick Thay, The World's Most Haunted Houses by Jeff Belanger, Ghostly Adventures by Christopher Balzano, Picture Yourself Ghost Hunting by Christopher Balzano, Ultimate Ghost Hunter by Vince Wilson, Field Guide to Southern California Hauntings by Nicole Strickland, A History of Ghosts by Peter H. Aykroyd, The Haunted Queen of The Seas by Nicole Strickland, The Everything Ghost Hunting Book by Melissa Martin Ellis, Mysteries, Legends and Unexplained Phenomena by Rosemary Ellen Guiley, Delving Into The Unknown by Joey Tito, Ghosts of Gettysburg IV by Mark Nesbitt, Ghosthunting Virginia by Michael J. Varhola, Extreme Paranormal Investigations by Marcus F. Griffin.
Television Appearances: "A Closer Look" WMAQ-TV, "AM Chicago" WLS- TV, Cablevision of Chicago, Capital City's Omnicom, Channel 27 (Michigan City, IN.), "Chicago Live" WMAQ-TV, "Chicago Today" WCIU- TV, Comcast Cablevision, "Common Ground" WBBM-TV, CTV Television Network W-Five Toronto, Discover Magazine (Discovery Channel), "Encounters" (Fox 32), Exploring the Unknown, (Fox Family Network), "4U" (Time-Warner Cable), Fox News Chicago (WFLD-TV), "Hellava Halloween 7" (Jones Intercable), FX (Fox Cable), "Hunters of Ghosts" (Mona-Lisa Productions), "It Happened Here" (Discovery Travel), "Lifestyles" & Channel 6 (Continental Cable), Metrovision, The New 9:30 (Fox 32),"The Other Side" (WMAQ-TV), Rolanda (WLS-TV), "Sightings" (Fox-32 & UPN 50), "Today In Chicago" WMAQ-TV, United Cable TV of Northwest Indiana, Univision of Chicago, WBBM news, WGN news, WLS news, WMAQ news, Fox News, The Sci-Fi Channel ("Mysteries, Magic and Miracles"), Discovery Channel ("Real Ghosthunters" & "Phantom Photos"), TV6 Morning Show (Big Bear Lake, CA), The Travel Channel ("The World's Most Terrifying Places"), Paranormal Survivor ("Family Phantoms") Destination America.
Radio Shows: Coast To Coast with Art Bell & George Noory, WBBM, WBEZ, WBMX, WCRX, WFYR, WGCI, WGN, WHPK, WIND, WJJD, WLS, WLUP, WMRO, WOJO, WSEX, WVON - Chicago, KARN (Little Rock, AR), KCMO (Kansas City, MO), KEEN (Ventura, CA), KFRX (Lincoln, NE), KidsTV6 (Big Bear Lake, CA), KLLY (Bakersfield, CA), KNBR (San Francisco, CA), KQV (Pittsburgh, PA), KSDO (San Diego, CA), KSL (Salt Lake City, UT), KTTS (Minneapolis, MN), KVAS (Astoria, OR), KXL (Portland, OR), KYYS (Kansas City, MO), KZUM (Lincoln, NE), UPI Radio Network, Vancouver Live VU13 (Vancouver, BC), Voice of America, WALE (Fall River, MA), WARG (Argo, IL), WCAU (Philadelphia, PA), WCCO (Minneapolis, MN), WCMJ (Cambridge, OH), WCSJ (Morris, IL), WCSJ (Sioux Falls, IA), WFBQ (Indianapolis, IN), WHBQ (Memphis, TN), WILL (Urbana, IL), WIMS (Michigan City, IN), WINK (Fort Myers, FL), WIZF (Cincinnati, OH), WJNT (Jackson, MS), WKDR (Burlington, VT), WKRC (Cincinnati, OH), WKXD (Cockville, TN), WLIR (Granite City, NY), WMBZ (Joplin, MO), WMEL (Jacksonville, FL), WNBD (Peoria, IL), WNDE (Indianapolis, IN), WNUR (Evanston, IL), WOC (Davenport, IA), WONC (Naperville, IL), WPGU (Champaign, IL), WPZA (Ann Arbor, MI), WRC (Silver Spring, MD), WROK (Rockford, IL), WRRG (River Grove, IL), WRZX (Indianapolis, IN), WSIU (Carbondale, IL), WSRY (Syracuse, NY), WSOY (Decatur, IL), WTAE (Pittsburgh, PA), WTAQ (Hodgkins, IL), WTDY (Madison, WI), WTKN (Tampa Bay, FL), WTRX (Flint, MI), WWWW (Detroit, MI) and WZBQ (Terre Haute, IN).
Internet Radio Shows: Behind the Paranormal, Black Dog Radio Show with Richard Awe, Blog Talk Radio, Bridge Between Two Worlds (Providence, RI), Dead Speak Radio, Double D's Paranormal Show, Ghostly Talk Radio, Ghostman & Demon Hunter, Haunted Voices Radio, Kevin Smith Show, One Foot Out of the Grave, Ozark Mountain Radio, Paranormal 911, Paranormal Podcast with Jim Harold, Paranormal Straight Talk, Para-Nexus Radio, Parascience Journal, Python Radio, Strange Frequencies, The Momo Show, Thresholds Into Other Realms, The Sunshine Show, 30 Odd Minutes with Jeff Belanger, TIPSMN Radio, Universe of the Unknown Radio, Voices In The NYGHT, Whispers Radio, X-Zone.
Personal Information: I have been actively investigating paranormal phenomena since 1975 although my interest goes far beyond that. I work with psychics which help to compliment my investigations, whether local or out-of-state. I have conducted many investigations concerning ghost lights, haunted houses, battlefields, cemeteries, Indian burial grounds, murder sites, churches and sacred sites. I am currently listed in the Encyclopedia of Associations, Directory of Newsletters, The Forensic Services Directory, Instant Information. I personally direct "Excursions Into The Unknown, Inc.", Haunted Chicagoland Tours, which is a part of the Oak Lawn Chamber of Commerce.
I have contributed a chapter for a book released by Bantam called "True Tales Of The Unknown: The Uninvited" and several chapters for "Dead Zones" released by Warner Books and both edited by Sharon Jarvis. I have written two books "Windy City Ghosts" and "Windy City Ghosts II" which deals with strange and unusual sightings around Chicago. I have also written a book detailing spirit photography entitled, "A Field Guide to Spirit Photography," "Illuminating the Darkness: They Mystery of Spooklights" and "A Field Guide to Ghost Hunting Techniques". My most recent book is titled "Field Guide to Haunted Highways and Bridges". I've been to England, Wales and across the United States seeking out the paranormal.
I am the Publisher of Ghost Research Society Press which produces and publishes fine quality books on the paranormal, mysterious and the supernatural since 2004.
Investigation sites: I have personally investigated some of the most haunted locations around the world including: Antietam Battlefield, Ashmore Estates, Avon Theater, Bachelor's Grove Cemetery, Bartonville Asylum, Black Moon Manor, Bobby Mackey's Music World, Booth House, Brown Mountain Lights, Brumder Mansion, Buxton Inn, Camp Douglas, Casa Madrid, CBC River Treasures, Cheney House, Eldred House, Farnsworth House, Farrar School, Fort Mifflin, Fox Hollow Farm, Fredericksburg Battlefields, Fresno Flats, First Ward Schoolhosue, Gettysburg Battlefield, Goldenrod Showboat, Graveyard X, Greenwood Cemetery, Joplin Spooklight, Lemp Mansion, Lincoln Theater, Mansfield Reformatory, McKinley YMCA, McPike Mansion, Milton School, Mineral Springs Hotel, Morgan County Jail, Moundsville Prison, Octagon Hall, Old South Pittsburg Hospital, Polish National Museum, Pollak Hospital, Prospect Place, Rico D's, Roff House, Scutt Mansion, Starved Rock, That Steak Joynt, Theater Guild, Thomas House, Tinker Swiss Cottage, Trans Allegheny Lunatic Asylum, USS North Carolina, Waverly Hills Sanitarium, Westminster Catacombs, Whisper's Estates, Widow McCleary's, Willow Creek Farm and many others.
Personal goals: Through the research, study and investigations that I have completed and through continuing analysis, I hope to prove the existence of ghosts and life after death. I have amassed one of the world's largest collections of authentic spirit photographs, collected tape recorded voices and sounds of ghosts and some physical proof of their existence. I hope, in the upcoming years, to produce a paper on my studies of these elusive beings and further man's knowledge of what might lie beyond death's door.
Personal References: Excellent references upon request.
[ About the GRS | GRS History | GRS Merchandise | Bylaws | Chain of Command | Lectures | Media | [HOME ]
---

Ghost Research Society (www.ghostresearch.org)
© 1997/2016 Dale Kaczmarek. All rights reserved.
Web site created by Dale Kaczmarek