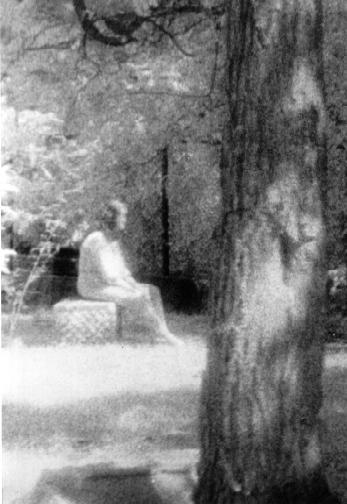 Girl on the gravestone
This photograph appeared in both the Chicago Sun-Times and the National Examiner. It was taken during an investigation in Bachelor's Grove Cemetery on August 10, 1991 with a group of GRS members. The picture is an enlarged black and white infrared shot taken of an area where many of the group noticed something unusual with some of the equipment they used. It shows a young woman sitting on a tombstone with parts of her lower and upper body being somewhat semi-transparent. The dress she is wearing is also out-of-date. It was taken by member, Jude Huff-Felz.
---
| | |
| --- | --- |
| Ghost Research Society: Ghost Photographs | |
---

Ghost Research Society (www.ghostresearch.org)
© 2000 Dale Kaczmarek. All rights reserved.