Biograph Theater
---
Biograph Theater
2433 N. Lincoln Ave.
Chicago, IL.

60614
773-348-4123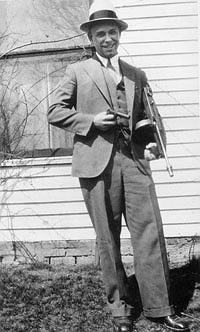 John Herbert Dillinger (1903-1934) was the first criminal listed as Public Enemy Number One. He is said to have robbed between ten to twenty banks within a mere eleven months, plundered police arsenals, engaged in three spectacular jail breaks and fought his way out of many police traps, murdering ten men and wounding seven others in the process. He was a product of an unhappy home life. John's mother died when he was only three years old. He associated with a gang called the Dirty Dozen and was charged with stealing coal from the Pennsylvania Railroad's gondolas; he was only in sixth grade at the time.
His serious flirt with crime probably started in 1924 when in the company of a more hardened criminal, Ed Singleton; they attempted to rob a local grocer. They accosted F.B. Morgan on a dark street and Dillinger struck the victim on the head with a .32 wrapped in a handkerchief. When Morgan struggled, the gun went off. Dillinger served nine years in prison but was finally released on May 22, 1933 due to a petition with almost 200 residents of his adopted home of Mooresville, Indiana including that of F.B. Morgan himself!
While in prison however he came to know many bank robbers that would eventually become his accomplices like Harry Pierpont, John Hamilton, Hormer Van Meter, 'Fat' Charley Makley, Russell Clark and Walter Dietrich. On September 26, 1933 Pierpont and nine others took several hostages and escaped from prison.
Dillinger was in and out of jail several times but in January of 1934 was arrested and charged with the murder of Sheriff Jess Sarber. A 13-car convoy took Dillinger, Billie Frechette, Pierpont, Makley and Clark to the "escape-proof" Crown Point, Indiana jail. Dillinger, however, stunned the nation when he escaped by whittling a gun out of the top of a washboard, coloring it with black polish and sticking it into the rib of an unsuspecting prison guard.
After a near capture at the Little Bohemia Lodge north of Rhinelander, Wisconsin, Dillinger paid for plastic surgery which nearly killed him and ended up in Chicago using the name Jimmy Lawrence. He took up with a 26-year-old Chicago waitress named Polly Hamilton. Polly, and Anna Sage, whose real name was Anne Cumpanis shared rooms at 2420 N. Halsted Street. Sage was a Romanian immigrant who arrived in the states just after the war and had operated house of ill repute in Gary, Indiana and East Chicago, Illinois. She was in danger of being deported due to arrests of operating a disorderly house.
Even though there was a $10,000 reward for Dillinger dead or alive, Sage and Hamilton were faithful to him until Sage struck a deal with the FBI to inform on Dillinger in exchange for the government dropping deportation proceedings against her. Melvin Purvis, the agent in charge of the Chicago office of the FBI agreed to help her.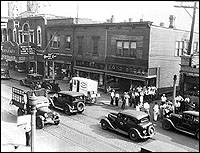 On July 22, 1934 Dillinger took the two women to the Biograph Theater to see Manhattan Melodrama starring Clark Gable, William Powell and Myrna Loy. It was a hot sticky night but the marquee on the Biograph advertised refrigerated cooling inside. Sage dressed in a bright orange dress, which many mistook for red and because of this, would forever be known as "The Lady in Red". When Dillinger walked out of the theater at 10:40 p.m., Purvis lit his cigar as the signal that identified Dillinger. He called on him to surrender but Dillinger took off running south toward a small alleyway. Shots rang out from three FBI agents and even though two women were wounded in the melee, Dillinger was hit twice mortally. One bullet entered into his left side and the other tore through his crouched back and came out near his right eye. Dillinger fell just short of the alleyway. He was dead!
Many people realizing who had just been killed immediately dipped their handkerchiefs into the pooling blood as souvenirs. Dillinger never drew his weapon nor got off a single shot. For her part in the death of Dillinger, Sage received $5,000 but was deported anyway.
Such a violent life and death could lead to supernatural events at the site of his demise. It's become a common occurrence for residents, pedestrians and motorists to witness a most unusual event. A bluish-gray silhouette of a man is seen exiting the theater and then running quickly to his left, southbound towards the alley before tripping, falling, hitting the pavement and then disappearing; a ghostly replay of the events on that July evening in 1934. Some people have even claimed to have photographed strange shadowy figures lurking in the alleyway, just steps from where Dillinger was killed. Is John Dillinger's ghost haunting the Biograph Theater and the alley where he was killed? Or is it a figment of many people's imagination? Or is it as author J. Robert Nash claims, that a double or look-alike, another surgically-altered to pass as Dillinger killed here? Then what better reason for a ghost to haunt the area then to profess his innocence from beyond the grave.
---

Ghost Research Society (www.ghostresearch.org)
© 2011 Dale Kaczmarek. All rights reserved.
Web site created by Dale Kaczmarek