Mount Carmel Cemetery
---
Mount Carmel Cemetery
1400 S. Wolf Road
Hillside, IL. 60162
708-449-8300
Mount Carmel Cemetery is a large predominately Catholic, Italian cemetery where a great many Roman Catholic Cardinals and priests are buried. On the Roosevelt Street side of the cemetery is where visitors will find the grave of Alphonse Capone (1899-1947). He died in late January of 1947 and was originally buried in Mount Olivet Cemetery. He had died in his $100,000 Miami Beach villa of a brain hemorrhage eight days after his forty-eighth birthday. Among the mourners were such former associates as the Fischetti brothers, Charlie and Rocco; Jake Guzik; Sam "Golf Bag" Hunt; and Murray "The Camel" Humphreys. He was later moved to Mount Carmel cemetery into a much larger family plot where he is surrounded by his family including his mother, Theresa; his father, Gabriel; and his only sister Mafalda Maritote who died as recently as 1988. Other Capones also buried with him include Matthew, Salvatore, Ralph and Umberto.
Just inside the Harrison Street entrance to Mount Carmel Cemetery is a rather impressive-looking statue of a woman holding a bouquet of roses in her arms. This monument marks the gravesite of Julia Buccola Peta, often known as "The Italian Bride".
Julia died in 1921 in Schaumburg at the age of 29 of apparent complications from childbirth, namely intense fever, and was buried with her stillborn infant in a modest grave. She was buried in her wedding gown, as is Sicilian custom for anyone mother who gives her life for the life of her child.
Shortly after her burial, her mother, Philomena Buccola, began to have a series of unusual dreams in which her deceased daughter, Julia, would beg and plead with her to exhume the grave. This went on for sometime as the poor mother tried to have the local priest, police and cemetery officials grant her permission. Finally, after six years, permission was given.
In 1927, the grave of Julia was dug up, the casket lifted out of the ground and placed on the grass. As the lid was pried open, there was Julia still as fresh and perfect as the day she was buried!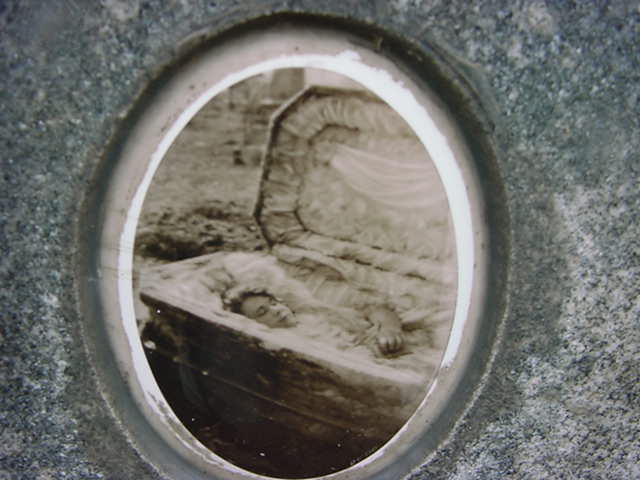 Friends and relatives of Julia said that because the body was uncorrupt could only mean that she was a saint. The body of Julia was resealed in the coffin and reburied. An imposing monument was erected showing Julia in her wedding dress holding a bouquet of roses and a strange inscription that reads, "Questa fotografia presa dopo 6 anni morta." Loosely translated it reads, "What is this strange photograph taken six years after her death?"
On the base of the monument are two small porcelain photographs. The top one shows her on her wedding day dressed in her wedding gown and is the one from which the monument was copied. The picture below is photographic proof of the story as it shows Julia lying asleep in her coffin, loose dirt lying around the casket with the lid having just been removed. A girl in perfect condition after burial some six years earlier! The real miracle of Mount Carmel Cemetery .
But Julia's story goes much farther than just the body in the ground. Students of Proviso West High School just east of the cemetery on Wolf Road have reported seeing a girl walking through the cemetery at night. In fact, rumors that Julia was spotted within emptied out a school dance near Halloween in 1976.
A carload of people driving down Harrison Street was startled to see a girl walking through the tombstones late one evening. They stopped their car to get a better look. They assumed it was someone playing a prank for Halloween. As they watched, they became very frightened because they realized it was pouring rain outside and although it was very wet, the girl that they could see only 25 to 30 feet away was perfectly dry! Her hair and dress untouched by the Fall weather. They left the area in a big hurry!
Interviews from the Hillside Police Department have yielded strange reports like odd white shapes floating about. This has been seen by a number of police department officers. Different from the Julia sightings, these are multiple sightings.
Julia is most often seen around the small administration building just inside the Harrison Street entrance. The most recent paranormal occurrence near her grave is the psychic smell of roses especially in the colder months when fresh flowers would all but be dead!
"The different scents are quite distinctive," says Chicago floral designer Ruth Bukowski. "I was there in November of 1982 and the flowers I smelled were definitely baby roses - better known as tea roses."
In late 1978 a passing motorist reported seeing the grave of Julia apparently glowing as though it was giving off its own form of luminescence. Perhaps Julia's ghost is just trying to light the way to her ever-popular final resting place.
In Section 19, there is an unusual revolving tombstone! The top of the monument shows a family seated around a table and which a slight pressure, the entire top will revolve 360 degrees in a circle. The family name is Di Salvo and the plot includes the remains of Angelo (1869-1932), Rosa (1872-1927) and Florence (1891-?). It's truly a marvel sculpture and craftsmanship.
---

Ghost Research Society (www.ghostresearch.org)
© 2011 Dale Kaczmarek. All rights reserved.
Web site created by Dale Kaczmarek