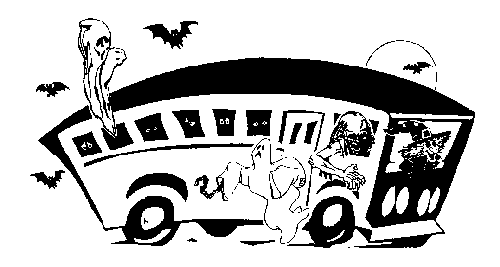 Excursions Into The Unknown, Inc. - Haunted Chicagoland Tours
Your guide for all the tours will be noted ghost researcher, author and lecturer, Dale Kaczmarek who has appeared as a guest on the following networks. We do not use substitute tour guides and never use school buses!!





Halloween is a special time of year and why not celebrate this scary season by seeing some of Chicagoland's most haunted locations from the comfort and safety of a luxury motor coach! Dale Kaczmarek and Excursions Into The Unknown, Inc. is celebrating it's 35th year as Chicago's best and most informative ghost tours. Dale will be autographing his newly released and updated books Windy City Ghosts, Windy City Ghosts II, A Field Guide to Spirit Photography, Illuminating the Darkness: The Mystery of Spooklights, Field Guide to Ghost Hunting Techniques and Field Guide to Haunted Highways and Bridges.

All tours leave from Chicago Ridge Mall at 95th & Ridgeland Ave., in Chicago Ridge (from the Sears parking lot on the north side of the mall), next to Bank of America. You may use the map below for further assistance. Look for the light pole with the large letter "F". Please arrive no later than 15 minutes before tour departure. Cancellations or refund requests of those who have booked with credit cards only are subject to a cancellation surcharge, not to exceed $2.00 per ticket. Cancellations less than 10 days will be honored with standby passes only. No refunds!! Tours begin at 7:00pm and run 3-4 hours unless otherwise noted. (10% discount to GRS members in good standing!) AAA Chicago Motor Members receive $2.00 off, Senior AAA Members $3.00. The AAA discounts are for card holders only! You must present your AAA card on the day of the tour to receive your discount, however please take your AAA discount when you book online.

All dates listed below have current availability. Once a tour is filled up it is removed from the list as soon as possible.
---
Upcoming Events

- Browse the

Event Calendar

for further dates.




You may now sign up on-line using a credit card! Visa, MasterCard and Discover gladly accepted.
~ Member of the Oak Lawn Chamber of Commerce ~

Please make all checks or money orders payable to:

Excursions Into The Unknown, Inc.
PO Box 205
Oak Lawn, IL. 60454-0205

(708) 425-5163 Voice
(708) 425-3969 Fax



For those seeking a discount, we can accept Cash on the day of the tour. Tickets will be discounted $5.00 so it will cost $5.00 less per person. Simply select the Cash option in the Final Payment Type. When paying with Cash a Credit Card is still necessary in order to hold the seats for the tour. No-shows will be charged! There is no pyramiding of discounts on any of the tours. You can only select AAA, AAA Senior, Senior, Cash or Coupon Code, but not a combination of two or more. Thank you!

* There is NO SMOKING, ALCOHOLIC BEVERAGES OR GLASS CONTAINERS allowed at any time on board the bus. There will be off-the-bus stops if you wish to smoke at that time. No exceptions as per ICC rules and Charter Bus Service regulations! You are invited to bring your own refreshments and snacks for the trips but will be responsible for the cleanup.

For any of the above tours, if the size of the participants is 14 passengers or less, the tour will be conducted on a 15 passenger van which has a PA system. You can email me at any time to determine the current size of the vehicle being used.
Group and private tour rates can be found here: Group Rates

For those who wish to select a special theme tour for their group of 6 or more people, you can now select the tour of your choice from the following list: Archer Avenue Tour, Haunted Churches Tour, Haunted Graveyard Tour, Weird Windy City Tour, Strange Chicago Tour, Northside Ghosts Tour, Gangster & Murder Tour, Tragic Events Tour. Special theme tours cannot be booked on weekends in October or through the second week of November. We can however accommodate these tours on any weekday throughout the year and weekend dates the rest of the year. Thank you for your understanding!

As reviewed by...


A short video of some past tours
Comments from satisfied customers...
"Just wanted to say thank you for a fun tour on Saturday. I'm looking forward to future tours", Kathy S.

"I just wanted you to know we all had a great time! I have received a lot of positive feedback from the tour and I look forward to next year's tour!" Meghan Fenlon, Alsip Park District.

"Thank you for the great job you did for our Traditions Club outing on October 20, 2003. I have heard nothing but great comments from the group. I look forward to doing this again in the future." Ronald Cockrell, Traditions Club Representative.

"Michael and I wanted to thank you again for a great tour - our kids finally admitted it was good, too. Ahh those wonderful teen years..." Nicole K.

"I just wanted to say thanks for the Excursion on Saturday. I for one thought it was pretty well organized and very informative. I learned some new stories and had a lot of fun. I look forward to going on another one next year." Brian B.

"Thanks again for yet another informative and entertaining ghost tour! My mom and nephew (from out-of-state) truly enjoyed the evening as well." Karyn B.