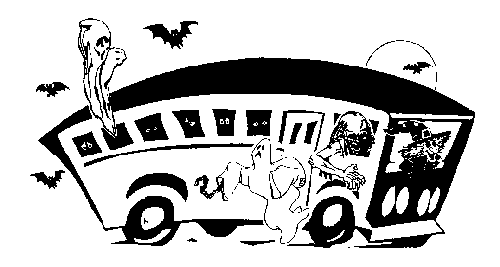 Excursions Into The Unknown, Inc. - Lectures
Dale Kaczmarek is a noted expert in the field of the supernatural and paranormal. He is President of the Internationally known Ghost Research Society, Author of Windy City Ghosts, Windy City Ghosts II, A Field Guide to Spirit Photography, Illuminating the Darkness: The Mystery of Spooklights, Field Guide to Ghost Hunting Techniques, Field Guide to Haunted Highways and Bridges, creator of GRS Productions and CEO of Ghost Research Society Press. Dale has been professionally investigating ghosts and hauntings since 1975 and is an active member of The Society for the Investigation of the Unexplained, International Fortean Organization, The American Association for Electronic Voice Phenomena, and The Ghost Club of England. Dale is also the director of Excursions Into The Unknown, Inc., the only year- round bus tour of haunted Chicagoland locations since 1982!

CURRENT LECTURES INCLUDE:
Civil War Ghosts is a presentation devoted to the many haunted places and battlefields associated with the Civil War.
Evidence from Beyond the Grave is another look at the many investigations of the Ghost Research Society including visits to: Berlin Tannery, Old Blackford County Jail, Fox Hollow Farm, McKinley YMCA, Pollock Infirmary and Trans Allegheny Lunatic Asylum.
Ghostbusting Techniques is a unique hands-on presentation which also demonstrates actual ghost hunting equipment and procedures.
Ghosts I Have Met! This lecture presents the many personal encounters and unique experiences that I have had the opportunity of encountering during my ghost research and investigations.
Ghosts on Video is a PowerPoint presentation of some of the most unique and startling audio and video evidence ever captured by the Ghost Research Society!
Haunted Hoosierland take the audience to the great state of Indiana with its many ghost stories and urban legends.
High-tech and Ghostly Evidence is a presentation that explains the various tools of the trade used in ghost hunting and shows examples of actual evidence captured by those devices.
It's Not Always a Ghost is a presentation that shows examples of accidental spirit photography and cites examples of pictures that have perfectly natural explanations.
Misconceptions of Ghost Hunting Equipment is a PowerPoint presentation of the proper use of high-tech gear and which equipment is to be avoided.
Northside Ghosts takes a look at the many ghost sightings and local legends in the northern suburbs and the northside of Chicago.
Paranormal Evidence is a PowerPoint presentation of audio, video and still evidence taken directly from actual paranormal investigations of the Ghost Research Society.
Poltergeists! We take a look at the psychokinetic theory of the Poltergeist and how it relates to ghost research.
Portal Hauntings is a a look at many haunted locations across the United States where strange things have been reported, encountered and, in some cases, recorded. Discussed will be some theories of what a Portal Haunting is and lcoations that you can visit and perhaps experience strangeness for yourself.
Southside Ghosts takes a look at the many ghost sightings and local legends in the southern suburbs and the southside of Chicago.
The Enigma of Ghost Lights is a talk about the many places around the country where unexplained balls of light have been reported.
The Evidence for Ghost Photography Through the visuals displayed, this presentation shows the many different and diverse ways that ghosts can appear through photographs.
The Haunted Midwest is a look at very famous haunted locations within the Midwest including Illinois, Indiana, Missouri and Wisconsin.
The Occult is a presentation devoted not only to ghost research but other areas of the paranormal including a look into the darker side of parapsychology.
The Royal Ghosts of England is devoted to the many hauntings, poltergeists and mystical places throughout the United Kingdom.
The World's Most Haunted Houses delves into houses throughout the world where many famous hauntings and ghost sightings have occurred.
True Chicagoland Ghost Stories is the most popular lecture offered as it is a look at the many areas throughout Chicagoland which are considered to be haunted!
Voices of Spirits takes a look at the subject of EVP (Electronic Voice Phenomena) ane the various pieces of equipment used to gather evidence of spirits voices.

Ask for the complete list of all lectures. All lectures run from one to two hours. Fees start at $300.00 per hour with ample time for questions and answers. Special rates for Senior Citizen groups, non-profit organizations, libraries and civic centers can be arranged. Fees are calculated by distance traveled to and from lecture sites, time involved for roundtrip travel and lecture, expenses, and if permission is given to Mr. Kaczmarek to sell and promote his ghost books.
For further information or to schedule a lecture for your group contact: Dale Kaczmarek. Advanced booking and reservations required during the months of September, October and November!! VISA, MasterCard and Discover accepted. Excellent references provided upon request.